See opal. Buy opal. Done. Right?

Nope. Like all the best things in life, buying opal jewelry takes some thought. Every opal is unique which can make it harder to choose, but when you do find something, it's all the more special. That's why we put together this guide to help you through your opal jewelry journey.

If you like things simple and smooth, browse our collections of ready to wear opal jewelry. If you're one of those people that likes to be involved in the whole process (type A, anyone?), scroll down to our bespoke opal jewelry service where you'll be able to customise your own showstopping one-of-a-kind piece.
Ethical. Sustainable. Traceable.
Our commitment to ethical sourcing and sustainability doesn't stop at our opals. Every gemstone we use has been sourced from a supplier that shares our values and our gold is recycled and mixed with new, ethically mined gold from New Zealand.

We also strongly believe in supporting the outback communities that make the opal trade possible. We skip over the middleman and buy directly from miners which ensures the marginal outback communities see meaningful benefits from the industry.
Ready to wear opal jewelry
Like to keep things nice and simple? Us too. Explore our range of beautiful opal jewelry that's ready to go right now.
Create-your-own Opal Jewelry
Choosing an opal can be deeply personal. After all, each stone is unique, as are you. Who wouldn't want their piece of opal jewelry to be one-of-a-kind as well? If you're the type of person who loves having a say in every element, here's what the process is.
Step 1: Choose your design
Our bespoke settings were created to enhance our opals and include ring, necklace and earring designs.
Step 2: Choose your metal
We work in Sterling Silver, and 18k gold with yellow, rose and white being the options.
Step 3: Choose your dream gem
Do you prefer black, dark, white, or crystal opal? Find the perfect opal and side gems that fit the dimensions of your setting.
Step 4: Relax, we'll do the rest!
The hard part (for you) is over. Put your feet up while we get to work bringing your design to life.
Opal Engagement Rings
Opals have been named the most ethical option for engagement rings by Vogue Magazine and we'd be inclined to say they're the most beautiful too. But before you go dropping hints about an opal for your finger, here's what you need to know.
Yes, they are the most ethical option. With a totally sustainable and traceable supply chain all the way from the Australian opal fields to your jewelry box, our opals are ideal for people who care about the provenance of their jewels.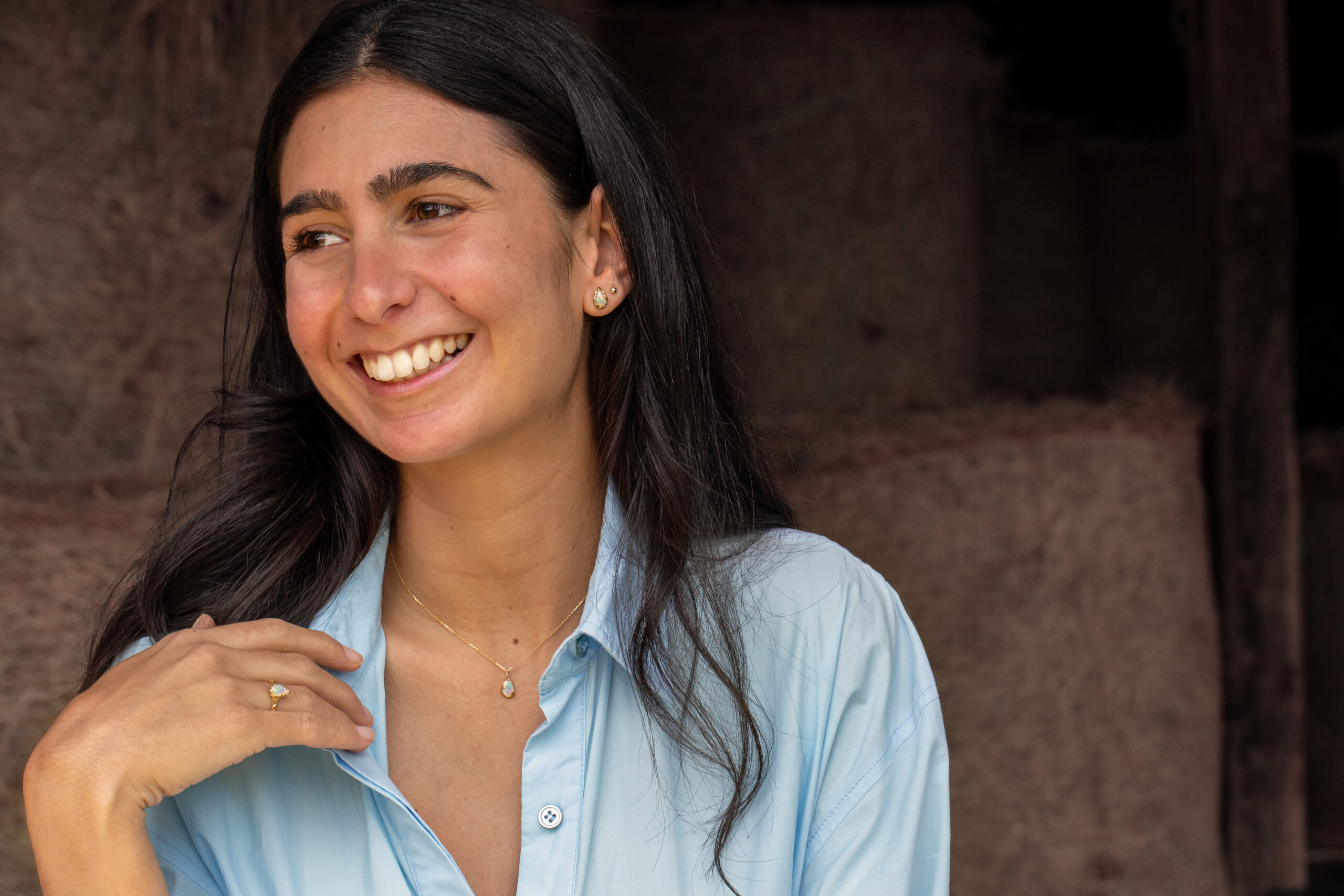 Kindred Collection
Kindred is a melding of the botanical with the animal and geological. It was inspired by aerial vistas of outback Australia and majesty of the desert dunes. We are connected to each other and the land by many threads.
Are opals bad luck?
We firmly believe that opals are only bad luck if you don't own one! Seriously though, this is simply not true. Opals are the most gossipped about gem. In part, because their play of color has bewitched and mesmerized us for millennia and until modern science revealed the reasons it seemed as if there was alchemy and magic involved in the phenomenon.
The ancient Greek philosopher Pliny called opal the Queen of Gems. Marc Antony did all he could to secure an opal for Cleopatra and more recently at the London exhibition of 1908, DeBeers spread rumors about the curse of opals – just to ensure that their diamonds reigned supreme.
For millennia opals were very rare and viewed as a strengthening stone and a protector in childbirth. They are said to amplify intentions and emotions and be a powerful force for transformation and joy.
So to the stories that say opals are bad luck if you wear them, or that you can only wear them if you are born in October we say – BAH humbug! Opal has always been a talisman for us. A signifier of our joy and the special gifts only we possess.
Caring for your opal jewelry
Regardless of whether you buy something ready-made or design a piece yourself, taking care of your opal jewelry is important. Opals are more delicate than other gems and need to be cared for in a specific way.

To make things easy for you, we've put together a (very) short guide with everything you need to know for a long and happy relationship with your stunning jewelry!

Find a true gem
Have we convinced yet? Now it's time to go and find your very own piece of unique opal jewelry to treasure.